May 6th, 2004 | Feature | PlayStation 2


Toro and the Shooting Star Guide
It just, wasn't, enough. Put on your helmets and walk through the halls of a feature that goes above and beyond the call of insanity.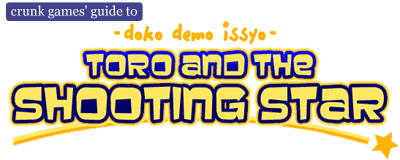 How do you do! Toro the cat here. ♪On the next few pages you'll find a bunch of stuff about my game Toro and the Shooting Star. Maybe a little too much stuff, but the guys at Crunk Games told me nyat to worry about it. I just hope they hurry and finish because they promised to take me to lunch at the sushi house~♪
Toro and the Shooting Star is a little more complex than my other games, but don't worry! ♥ There's a guide for you that will help you play and get a good start on the adventure. You'll also learn about me and my friends, and even some other things related to the game~!
Anyway, I'm getting kind of tired waiting for lunchtime, so I'll see you later! Please keep reading and enjoy yourself! ♥
– Contents –
The tried and true Doko Demo Issyo characters

The new animal friends in Toro and the Shooting Star

The less furry residents of Yumesa Town

Overview of the game: Control scheme, word inputs, etc.


Brief walkthrough leading up to acquiring the first piece of the shooting star.
– Doko Demo Issyo Series Timeline –
Doko Demo Issyo

1999


The original introduced us to Toro and the gang, and gave many a good reason to own a PocketStation for once
i-mode mo Issyo 2001
The second expansion added support for i-mode cell phones, letting players trade data online, plus more minigames
Koneko mo Issyo 2000
The first expansion disc included the ultramegacute Koneko Toro as well as extra items and locations
Toro to Kyujitsu 2001
Spend a few days with Toro in a nondescript Japanese town. Video backgrounds almost convince you that Toro actually exists
Watashi na Ehon 2003
Create a compelling storybook with the help of Toro and friends. (We also talked about this game in our past preview)
Toro to Nagareboshi 2004
Toro stars in a rollicking adorable adventure, which is just what this feature happens to be based on
Page Nav: Next &raquo
Crunk Games is a game site about nothing. Read more anyway »
Feed


Editorial
Review
Preview
Profile
Feature
Other
E3

Game Index
(Alpha by title)
Dreamcast
Game Boy
GB Advance
Master System
Nintendo DS
Nintendo GameCube
PlayStation 2
PlayStation 3
PS1
PSP
Sega CD
Sega Saturn
Xbox

Archives
2011
2010
2009
2007
2006
2005
2004
2003

5 Random Links
Howard & Nester
Game Museum
Magweasel
Computer Hist. Museum
Gas Coin Co.